With an eye on expansion, C.D. Peacock promotes Olivier Stip to President and welcomes Adam Woitkowski as the company's first Vice President of Retail.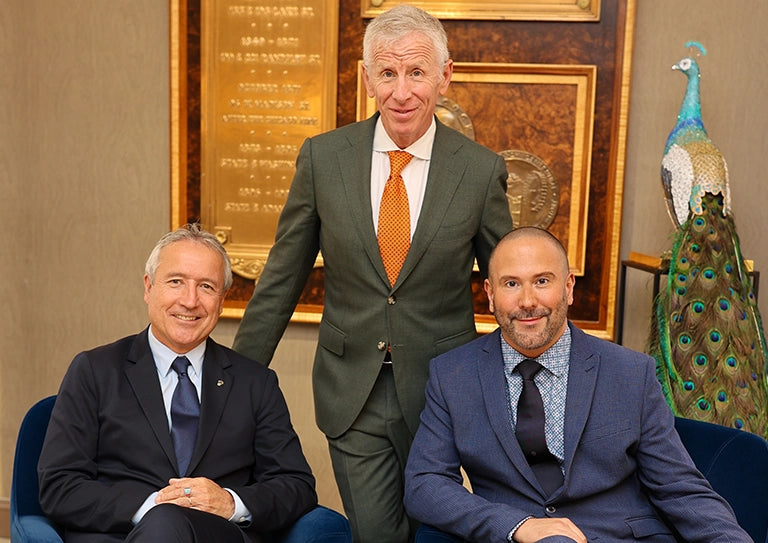 C.D. Peacock, Chicago's first business and the city's oldest jeweler, announces changes to its management team as they enter an expansive stage of growth and development in the greater Chicago market.
Olivier Stip, who joined C.D. Peacock in May 2022 as Chief Development Officer, has been promoted to the position of President, reporting directly to Steven Holtzman, Vice Chairman. Stip started his C.D. Peacock tenure by accelerating the development of the new 20,000-sqft flagship store, opening June 2023. 
"The past four months allowed me to appreciate how deeply C.D. Peacock is rooted in Chicago's history and culture," says Olivier Stip. 
Stip's new appointment as President illustrates the Holtzman family's focus on positioning C.D. Peacock as a premier retailer while refreshing the company's image through a complete rebranding which will be rolled out in early 2023. 
"Our long-standing partnership with the most iconic watch brands is stronger than ever, and we have an ambitious plan to further develop our jewelry business by introducing new C.D. Peacock bridal and fine jewelry collections as early as 2023," adds Stip. 
To support the initiatives, C.D. Peacock has named Adam Woitkowski to the newly created position of Vice President of Retail.  Woitkowski will lead C.D. Peacock's three stores and increase the focus on client development, experience and service.  Woitkowski brings a wealth of retail and client expertise acquired at prestigious companies such as Chanel and Saks Fifth Avenue, as well as large specialized retail chains Target and Home Depot.
On the future of C.D. Peacock, Steven Holtzman says, "We're in a unique position to be reimagining Chicago's oldest retailer, during our 185th anniversary, with a team so expertly versed in brand building. When considering a combination of Olivier Stip's background with Chanel and Cartier, Adam Woitkowski's blended experiences at ultra-luxury and big box retailers, and my experience in the luxury watch business, our collective expertise gives us the capacity to transform the store's culture as C.D. Peacock enters its expansion phase.  This won't look or feel like your typical American jewelry store."
About C.D. Peacock
Established in 1837, C.D. Peacock is Chicago's oldest jeweler and premier destination for luxury watch and jewelry brands, including Rolex, Cartier, Chanel, Omega, Tudor, IWC, Tag Heuer, Longines, Hearts on Fire, Roberto Coin and Mikimoto.  Family owned and operated, C.D. Peacock has been helping clients celebrate special occasions for 185 years, providing quality family heirlooms that are passed down for generations. C.D. Peacock operates three boutique locations in Woodfield Mall, Old Orchard Mall, and Oakbrook Center—where its "Mansion in the Clouds" flagship is planned to open in June 2023. For more information, visit cdpeacock.com or connect with us on Facebook, Instagram and Pinterest
Download All Files
C.D. Peacock Olivier Stip Steven Holtzman Adam Woitkowski