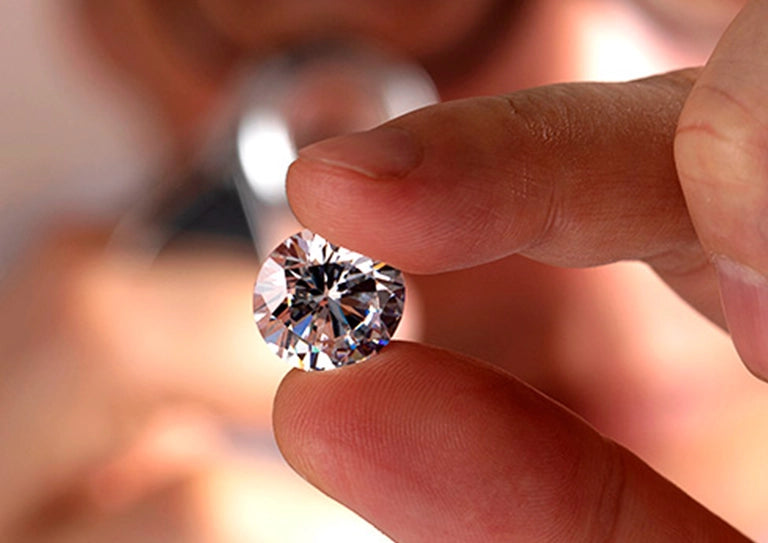 Here Is Everything You Need To Know About These Shimmering Gems
It's easy to see why lab-grown diamonds have been growing in popularity in recent years. After all, they are just as stunning as mined diamonds, but they have the added benefit of being guaranteed conflict-free, ethical, and more accessible. What's not to love, right?
If you want to learn more about these amazing gems, here's our expert guide on everything you need to know about lab-grown diamonds.
What is a lab-grown diamond?
Simply put, lab-grown diamonds are diamonds. The only difference is that they are created in a laboratory instead of being mined.
While mined diamonds take millions of years to be created, scientists can replicate the natural process in a lab and create diamonds in just about two months. Impressive, right?
Are lab-grown diamonds real?
Absolutely! Lab-grown diamonds have the same physical, chemical, and optical characteristics as mined diamonds. In fact, they are so similar that even jewelers and gemologists can't tell them apart with the naked eye.
Not to mention, the US Federal Trade Commission has even removed the word "natural" from the definition of "diamond", acknowledging the fact that lab-grown and mined diamonds are equal.
How are lab-grown diamonds graded?
Lab-grown diamonds are graded exactly the same way as mined diamonds. To grade them, professional jewelers analyze their cut, clarity, carat, and color - which are known as the 4Cs. Those are the four main elements to keep in mind when choosing the perfect diamond for you. If you would like to learn more about how diamond grading works, explore our Diamond Education Guide
Lab-grown diamond jewelry
They say diamonds are forever, and the same goes for diamond jewelry. Whether you prefer mined or lab-grown diamond jewelry, these dazzling pieces are essential to any collection because they simply never go out of style. So, to help you build the perfect diamond jewelry collection, here are some stunning pieces featuring lab-grown diamonds to inspire you.
Lab-grown diamond engagement rings
Diamond engagement rings are iconic. Whether you're after a halo engagement ring, a beautiful solitaire, or a shimmering three-stone ring, the great news is that you can easily make your choice more sustainable by opting for a lab-grown diamond engagement ring. It's definitely a win-win!
Lab-grown diamond wedding bands
Say "I do" with dazzling diamond wedding bands! From eye-catching eternity bands to minimalist diamond wedding rings, your options are endless. And the best part is that you can keep adding beautiful diamond anniversary bands to your stack with every coming year. Who can resist all those stunning diamond rings?
Lab-grown diamond bracelets
Diamond bracelets add the perfect amount of shimmer to any outfit. Diamond line bracelets effortlessly add a timeless elegance to your outfits, while diamond bangles are perfect for creating a striking bracelet stack. From the office to a night out on the town, you simply can't go wrong with these stunning accessories.
Lab-grown diamond earrings
Whether you prefer bold designs or dainty styles, diamond earrings are essential to any jewelry collection. You can mix and match lab-grown diamond stud earrings with statement diamond hoops to create a sparkly stack, go all out with a pair of striking diamond dangles, or stick to a minimalist look with dainty diamond huggies. Your styling options are endless!
Lab-grown diamond necklaces
No jewelry collection is complete without a couple of timeless and versatile diamond necklaces. From stylish bar necklaces and dainty diamond solitaire pendants to classic line necklaces and fashionable diamond station chains, you'll have no shortage of stunning designs to choose from.
Lab-grown diamond rings
Diamond fashion rings are amazing accessories because they instantly dress up even the most casual outfits. And the best thing about rings is that you have a plethora of stunning designs to choose from. Between platinum eternity rings, yellow gold stackable bands, and multi-row diamond statement rings, you'll never run out of stylish diamond rings in your collection.
Where to buy lab-grown diamonds in the Chicago Area?
C.D. Peacock is your go-to jewelry store for the best lab-grown diamonds in Illinois. Here, you'll find everything from timeless diamond studs to trendy diamond station necklaces and stunning lab-grown diamond engagement rings.
Visit us in Oak Brook, Schaumburg, or Skokie, IL. If you prefer, you can send us a text using the box in the corner of this page, and we'll be with you shortly. And, don't forget to follow us on Instagram and Facebook for our latest news and stunning jewelry inspiration!