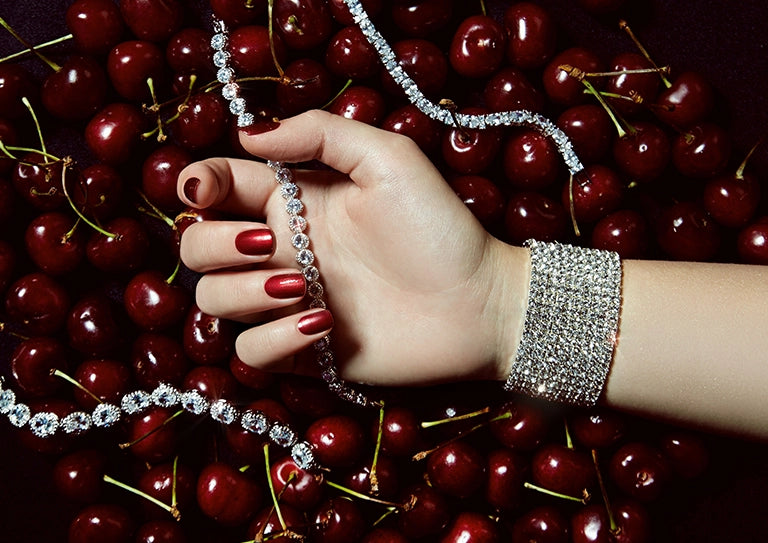 Bracelets are lovely pieces of jewelry that always make a statement since they're worn on the wrists and seen so easily. In addition to calling attention for being one of the first accessories to be caught by an eye, bracelets also are key for putting together a look that also brings out the movement of your body, making you look amazing.
Why we love bracelets so much
The perfect bracelet for you should reflect your style and fashion taste. Because of that, not only is it important to think of the different meanings that each bracelet has, it's also key to take into account what kind of message you want to convey by wearing it. 
Read on and turn your bracelets into a personal statement! Adorn yourself with them and let them take you into another world, one in which you can change according to your personality, or even your mood! All that with the movement that only bracelets are able to offer you. 
How to choose the perfect bracelet for you
The metal the bracelet is made of tells much about it. So, an easy way to find the right bracelet for you is to choose it by the metal. Conversely, defining the metal and some of the materials that are featured on it can be done by following a few basic guidelines. Precious metals never go out of style, so let's dive in!
Yellow gold bracelets
This hue of gold is perfect to enhance warmer and olive skin tones, as it makes them look super healthy and give off a beautiful glow. But these physical features are not the only thing that makes people love yellow gold. It is the most classic kind of gold and it perfectly suits bold and extravagant personalities.
Check out our selection of yellow gold bracelets. We offer design in 14K and 18K, and bracelets with yellow gold combined with platinum and rose gold.
White gold bracelets
Perhaps the most popular kind of gold, white gold is commonly found in wedding bands and engagement rings due to its versatility. It is a great enhancer to pretty much any skin tone, yet it looks amazing especially on fairer and neutral undertones. It is sure to match any look and occasion. White gold is also an extremely good match to diamonds, as it harmonizes very well with these gems. If you want to go for a more basic and discreet look, opt for a more discrete white gold bracelet design. If you want to make an impact, white gold and diamond bracelets will do the trick for you. Be inspired by our white gold bracelets. Our wide array includes 14K and 18K white gold by itself and with platinum and white gold.
Rose gold bracelets
This hue of gold became increasingly popular in the fashion industry in the past years, especially when combined with diamonds, pearls or even other metals. Rose gold is perfect for people who like to stand out from the crowd, who have their own set of beliefs and personalities and follow their own rules.
It is likewise perfect for dreamy and romantic personalities, given that the rose reminds us of love and cherish. In addition, rose gold is a hue of gold that naturally enhances the natural beauty of warmer and olive skin tones, harmonizing with it. Fall in love with these lovely rose gold bracelets!
Silver bracelets
People who love silver know the many benefits of this metal, which extend from aesthetics only to even health benefits, since silver is known for its healing properties. It looks beautiful on fairer skin tones. Sterling silver is a more affordable alternative that nonetheless offers the benefits of this metal. Browse through our charming selection of silver bracelets and see for yourself the multiple ways this metal can enhance your beauty.
Platinum bracelets
Platinum is seemingly similar to white gold and silver, yet this metal also offers many benefits. For one, it is extremely durable and resistant to changes in weather. It is extremely low-maintenance to keep, which is the reason why platinum is so popular especially among practical, busy people. The metal is also associated with financial prosperity for those who believe in numerology. Check out our platinum bracelets and see how well it can suit your needs.
Where to find amazing bracelets in Chicago, Illinois
Bracelets are amazing and now you know how to choose the perfect one for you. Now, we'll tell you where to find it! Simply visit us in one of our locations and enjoy a complimentary visit. Our experts will be happy to welcome you and help you find the perfect bracelet for you by making sure your demands and personal preferences are met.
At CD Peacock, we are proud to serve our community with top quality designers and brands such as Gucci, Hearts on Fire, Vanity Fair, Chanel, Mikimoto and Roberto Coin, to name a few. We have a wide selection of exclusive bracelets featuring diamonds, pearls and other gemstones that are able to please any taste.
Feel free to connect with our community to be in the loop for news and inspiration by following us on Facebook, Instagram and Pinterest.