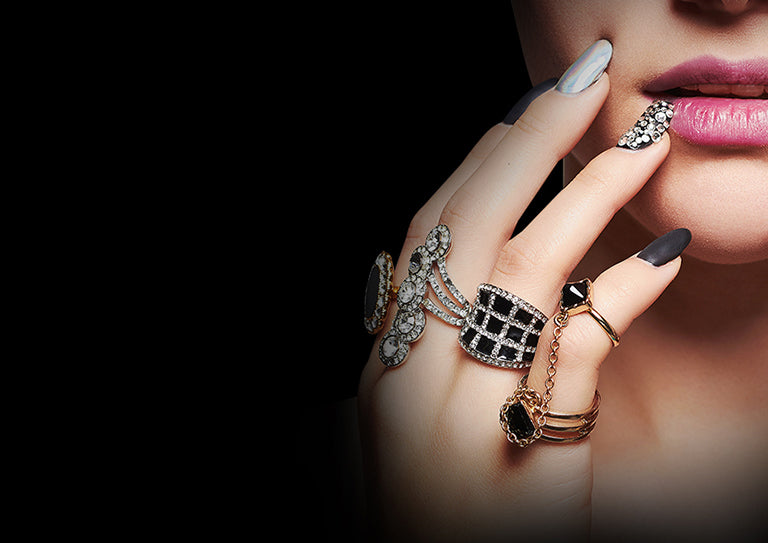 Rings are special pieces of jewelry that can easily enhance one's beauty by calling attention to the parts of our body we use the most: our hands. Yet, there are so many different types of rings and styles that choosing the perfect one may seem like an overwhelming task. 
But no worries, this guide will touch on the subject of the different types of fashion rings and will also teach you the essentials of how to wear them in a bold and confident way. So get ready to dive into this accessories' universe once and for all, and let CD Peacock walk you through that process.
Is there a right way to wear a fashion ring?
Where do we start? First, by understanding that fashion rings are meant to be worn for purely fashion purposes. That means that they are able to compose specific looks and can upgrade any outfit to looking amazing. Likewise, the options in terms of the different ways to wear them are many.
So how do we do it right and confidently? A few aspects should be considered when it comes to wearing fashion rings. The first is: remember, they're meant to be part of an overall look and not meant to get all the attention off your outfit, so balance is important here for that matter.
What is the best fashion ring material to invest in?
The answer to this question is entirely up to you. Best would be what best suits your style, your personality and your overall fashion taste. There is an overall rule of thumb though, which is to avoid shiny materials if you're going for a more traditional basic look to avoid drawing all the attention to your hands.
Another important aspect is to make sure the fashion ring matches the rest of your outfit, as well as your other accessories, such as any bracelets, necklaces, belts and watches you may be wearing along with it. If you're wearing a yellow gold watch, it may not be such a great idea to pair it with a silver fashion ring.
Does wearing a fashion ring on specific fingers mean anything?
You can wear a fashion ring on whichever finger you choose to do so, but there's some overall meaning attributed to specific fingers that you might wanna know about before you do so. Besides, it's important to know if you want to send a specific message by wearing rings on specific fingers.
For instance, the left ring finger symbolizes marriage, so if you're unmarried but love wearing a ring on that finger but don't want people to think that you are married, you might want to consider wearing it on the right hand instead. The same goes for the pinky finger: remember, it's usually a token of affiliation.
Choose your fashion ring by the most popular styles
Diamond fashion rings
Diamonds are forever - and you don't need to be engaged to wear a diamond ring. In fact, this charming little accessory may look unpretentious but is able to upgrade any look you could possibly think of. So if you're looking for an unforgettable ring, then a diamond fashion ring is perfect for you. We also offer a selection of black diamond rings.
White gold fashion rings
White gold is amazing because this type of metal is guaranteed to look good  on virtually any kind of skin color, but especially on neutral and fairer skin tones. This metal is likewise famous for being a perfect match to many different outfits and is a great match for many occasions and for everyday wear.
Yellow gold fashion rings
Yellow gold is timeless and classic. It is the classic form of gold and it has been around for centuries. It was commonly used by royalty as queens and kings, so it continues to be a symbol of royalty and all things luxurious, hence making you feel exquisite. This gold suits olive and warm skin tones perfectly.
Rose gold fashion rings
Rose gold is the most romantic type of gold and at the same time that it is delicate, it is also perfect for bold types because it takes a lot of attitude to want to wear this differentiated and outstanding style. Rose gold is always going to be remembered precisely for being so special and is a perfect match to warmer neutral and olive skin tones.
Sterling silver fashion rings
Those who love this metal can absolutely tell the difference between it and white gold and they stick to silver. It is a subtle yet noticeable one. Sterling silver looks beautiful on the skin, is a great match to most skin undertones and is just as long-lasting and high-quality as gold. 
Platinum fashion rings
Platinum is extremely durable and long lasting as it is a strong kind of metal. Many choose to wear it on a daily basis for those advantages and also for the fact that it resists extreme heat and cold, keeping its nice appearance over time. Some people believe this endurance works also against stress.
Pearl fashion rings
Pearls are beautiful, charming and delicate additions absolutely adored by women. But if you want to keep the pearls' feminine touch while also daring to innovate, then you should definitely opt for a pearl fashion ring - as it'll accomplish this purpose.
We work with Akoya cultured pearls, black and white and South Sea cultured pearls, as well as mother of pearl fashion rings.
Gemstones fashion rings
Gemstones instantly radiate your beauty by adding a touch of color to your life. Their vast array of options, colors and sizes makes them the perfect choice for creative expressive personalities that want to express how original they are. Make sure to check our selection of black jade and blue sapphire.
Where to find the best fashion rings in Illinois 
Now that you know which fashion rings to get, drop by one of our locations and come fall for our many different styles. We guarantee the hardest part will be to know which ring to get. At CD Peacock, we want to make our customers happy. Drop by for a complimentary talk with our expert staff and we promise it'll be worth your time.