Our Secrets To Finding The Perfect Engagement Ring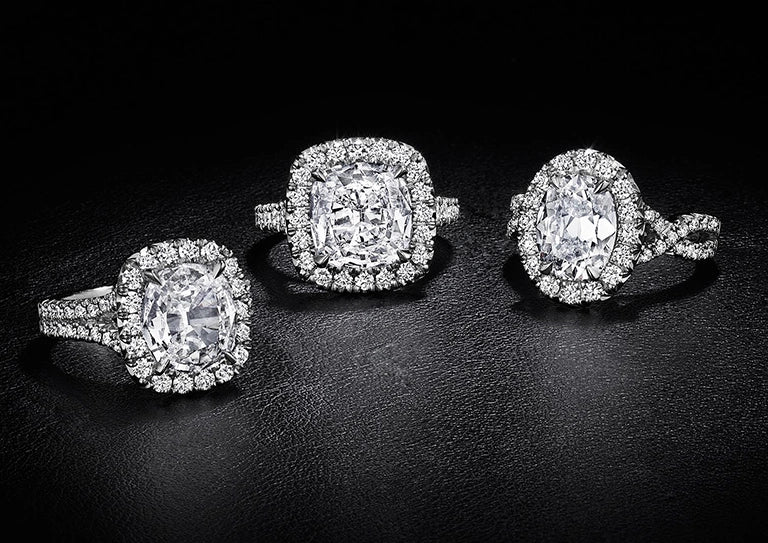 Our Secrets To Finding The Perfect Engagement Ring
Finding a great engagement ring can be a little challenging, especially with so many options to choose from. You always want a ring which leaves a lasting effect, while still being the perfect match to your sweetheart's style.
But, we have good news! There's no need to get butterflies in your stomach because we're all obsessed with the beauty of engagement rings here.  That's why we've curated options for all tastes, to make sure you find the one to make your beloved go a little weak at the knees and reach for a tissue (in a good way).
Sit back and enjoy our easy guide with tips to help you navigate the world of engagement rings with confidence!
Which engagement rings are the most popular?
The style of engagement rings is a very personal choice. Some styles are timeless, others evoke romance, and other styles are picked because of the radiant effect of their diamonds.
It all comes to the person who is to receive it. At this stage, we invite you to bring forth your inner Sherlock Holmes and investigate your partner's preferences carefully.
Engagement rings have strong symbolism. So, look for the details that resonate with how your sweetheart sees the love you share.
To help you understand all the options available, we've lined up  a list of much-talked-about engagement ring styles:
Solitaire
The design is elegant and highlights the centerpiece diamond with a stark glimmer that looks spectacular against all skin tones. The solitaire speaks for itself and never fails to draw eyes.
Three-Stone
This style oozes radiance from all sides with three dazzling stones. The three-stone engagement ring style is swoon-worthy and allows for many combinations of diamonds — the flanking stones and the centerpiece can feature different cuts.
Halo
Who doesn't love it? This unique and oh-so-gorgeous design features a row of delicate brilliants surrounding a diamond in the center. Additionally,  halo engagement rings are the epitome of romance!
Split-shank
If you love a take on classic designs, split-shank engagement rings will catch your attention. The band is cleaved in two, making room for extra sparkles and an intriguing peek of the finger.
Twisted
Twisted engagement rings showcase the finest of all settings. If the band of a ring is essential to you, you'll love this intertwined design, which can feature accented diamonds or not.
Bypass
Creative brides love the exuberant power in the bypass engagement ring style! The design usually features two center stones "bypassing" the other. The result is head-turning and dreamy.
What metal should an engagement ring be?
We know each metal color has its charm, so our tip here is to pick out a metal shade you've seen your sweetheart wearing.
Rose gold
Rose gold is romantic and unconventional. The unmissable hues of rose gold favor all skin tones and are certainly favorites of brides with fashion-forward styles!
White gold
The design is elegant and highlights the centerpiece diamond with a stark glimmer that looks spectacular against all skin tones. The solitaire speaks for itself and never fails to draw eyes.
Yellow gold
Yellow gold is timeless. We can find it in ancient jewelry relics, but there's still something voguish about them that many modern brides long for. Yellow gold is warm enough to liven up any outfit you have on.
Platinum
Platinum engagement rings are known for their strength and durability, and never fade or change color over time. Platinum engagement rings will prove to out perform all other precious metals and are the most popular choice for that reason. The everlasting quality is a cherished symbol of eternal commitment and love.
Custom design engagement rings
Are you looking for something even more personalized? We can help you custom design your engagement ring with your partner's preferences in mind.
We want you to have the most magical proposal of all time! Customizing an engagement ring is special because no other woman in the world will have a ring like the one you've created. 
You decide the shank style, the diamond cut and quality, the metal shades, and any extra details such as the engraving of your names, the date you met, or even a quote you've both come to love!
Engagement rings in the Chicago Area
If you're in the Chicago Area and deciding which engagement ring to buy, C.D. Peacock is your destination in Oak Brook, Schaumburg, and Skokie, IL.
When you shop with us, you have access to a vast selection of engagement rings by designers from all over the world.
Make the engagement proposal of your dreams a reality with pieces curated with the utmost attention to detail featuring only the finest metals and precious gemstones.
If you have any questions, send us a text using the box in the corner of this page. Have a chat with an expert. We'd love to hear from you!