Understanding Chronographs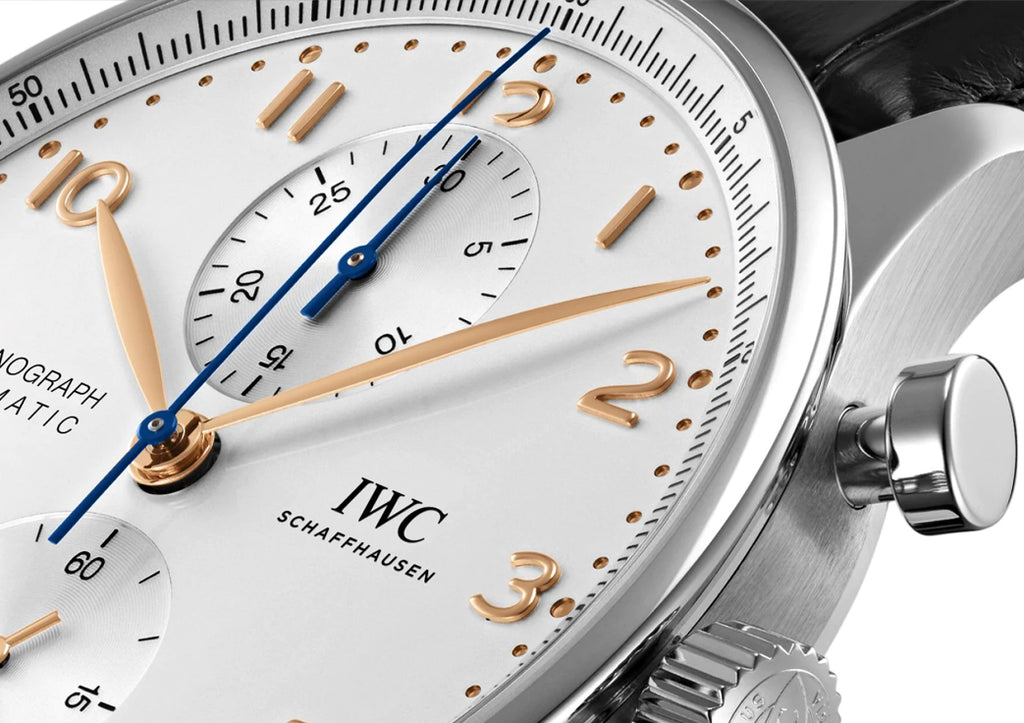 We regularly get questions from customers when it comes to chronograph watches. What is the point of a chronograph? What does it do? How does it work? Is it necessary? And so on and so forth. These are important questions to answer since  this category of watches is one of the most popular and alluring.
While mechanical (and quartz) chronographs vary in looks, types and functions, most have one important thing in common: Subsidiary dials on the main watch face. Sometimes there are two subsidiary dials, other times there are three, and some brands even offer four smaller inset dials. Sometimes those dials are the same color as the main dial and other times they are bolder thanks to contrasting colors. This harmoniously designed look is usually what attracts customers to the watch to begin with. Here, we answer some of the questions you might have about this beloved watch complication.
What is a chronograph?
The easiest way to explain a chronograph is to call it a stopwatch. Essentially, in addition to the time-telling functions of a watch, the chronograph measures elapsed time of an event or of multiple events depending on the movement inside the watch. The simplest chronograph has a button on the case side that the wearer pushes to start and stop  timing an event, like a lap around the track. Depending on the chronograph it can measure seconds, minutes and even hours. Generally, the wearer pushes a button to start the timing, presses the button again to stop the timing and presses a button to return the timing hand back to its zero starting position to do its dance all over  again.
Another alluring aspect of the chronograph is the fact that often, the hand that tracks the seconds for the stopwatch is placed from the center of the dial (along with the timekeeping functions of hour and minute hands) and is in a different color than the main hands – sometimes bold red, orange or yellow.
Types of Chronographs
As mentioned, there are a host of different types of chronographs. Some feature just the crown with a pusher in it, or just one additional pusher – these are referred to as monopusher chronographs. Others, typically most chronographs, have two push buttons, one each on either side of the crown. The choice between a monopusher and a two-pusher chronograph is typically just about looks and buyer preferences.
However, there are also additional types of chronographs that time more than a single event. For instance, the more complicated flyback chronograph and the split-second or Rattrapante chronograph. In a flyback chronograph, instead of the wearer having to push a button to have the hand return to start position when it is done timing, that rapid-reset function is built into the watch. So, when the wearer presses stop, the hand automatically flies back to its starting place to begin again. This is a useful function when timing, for instance, each runner in a relay race.
The more complicated mechanical Split-Seconds or Rattrapante chronograph is the most elaborate of all types of chronographs – both in its functions and in its making. Some of these chronographs have hundreds of tiny mechanical parts inside (almost double those of a normal chronograph) with gears and teeth that keep everything working precisely. The split-seconds chronograph boasts two additional chronograph seconds hands that are used to time multiple events with the same start time but different ending times, as in timing all of the finish times of multiple  runners in a race. Because of their complexity and their technologically advanced functions, Rattrapantes are among the most expensive chronographs on the market.
Another important factor in chronographs is how tiny of a fraction of a second can they time to. Most time to a second or a fifth or tenth of a second. However, today, there are extreme chronographs that can time to 1/100th of a second so there is no margin for error.
Other Functions Found in Chronographs
Often, the watch brand building the chronograph opts to pair it with other helpful functions. Typically, these include a tachymeter (generally on the bezel) for measuring speed or distance, a pulsimeter  for measuring heart beats, or other similar functions. Chronographs can also sometimes be deemed chronometers – which means the movement has undergone stringent tests in a laboratory for multiple extreme conditions and passed by staying withing strict confines of error. It is important to note that not all chronographs are chronometers.

SEE OUR RELATED ARTICLE ON CHRONOMETERS.
History of the Chronograph
Chronographs – as clocks and timers – date back to 1816, when watchmaker Louis Moinet invented the first one. Five years later, Nicolas Rieussec developed his clock version (which used a pencil to mark start and stop times) and named it chronograph. The word stems from the Greek words time and writer.