FOUR TIPS ON HOW TO BUILD A WATCH WARDROBE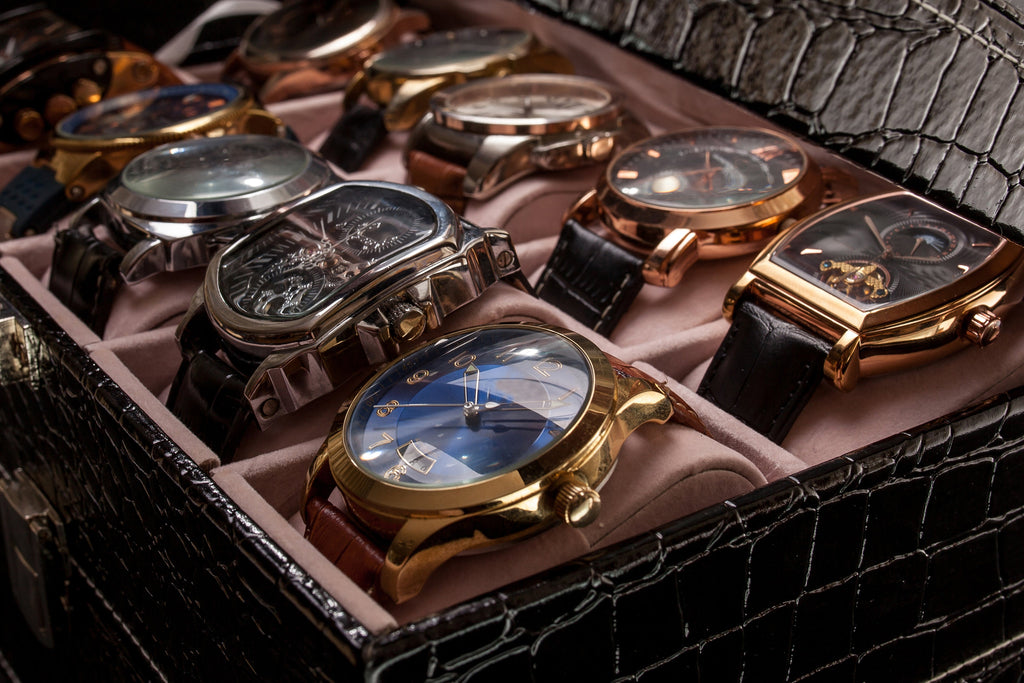 Some people want a single daily-wear watch; others want more than one so they can accessorize their wardrobes. Others are avid watch enthusiasts or serious collectors. After all, watches can be addicting thanks to their aesthetics, their mechanics and more. Additionally, watches typically not only hold their value, but also increase in value over the years so for some they are a worthwhile investment. With so many watch brands creating timepieces that range from a hundred dollars to a million dollars and more, though, it is daunting to know which watch to buy. Here, we offer four things to consider before making your next watch purchase.
Keep it Personal
The single most important thing to remember – the golden rule of watch collecting – is to buy what you like. Trust your own personal style and taste. Give some thought to your interests and your lifestyle so you get timepieces that tell your story. If you are a pilot, you may be into aviation style watches with clean dials and added functions. A car person? There are a host of watch brands aligned with automobile brands, races, vintage rallies and more. For the person who loves a classic look, designs abound.
In fact, there are so many different types of watches (dive watches, chronographs, complications) and genres of watches (military or re-editions), that it will be easy to find the right statement you want to make with the watch on your wrist. Some collectors find they like only certain color dials, while others love just a specific brand and collect watch after watch from that brand.
Most watch lovers usually chock their collection with a great daily driver, a small complication like a chronograph or dual time zone watch, a mix of bracelet and strap watches (or get a watch with an interchangeable strap system you can do yourself), and – if you can afford it – a nice complication like an annual or perpetual calendar, world time watch or something even more complex. The key to remember here is that there is no right or wrong. It is all about your own personal likes.
Set a Budget
Especially in today's world, where watches can vary greatly in prices, it is important to set a budget before you even go into a store and try them on. It is easy to get caught up in the moment when you find a watch you love that is out of your budget. There are plenty of value-proposition watches on the market where you can get great quality without breaking the bank.
And sometimes, it is nice to have a couple of quality watches than having just one piece. Besides, a strong wardrobe usually includes watches in several price ranges and offering different looks: a good sports watch, a classic piece, maybe a big brand name that you've always wanted, but one of their opening price-point collections. If you have a big budget and can go for an important piece, that's great, too. But know your limits.
Think about Materials – Inside and Out
Earlier, when we said to consider your personal preferences, we were thinking lifestyle and looks. But there is more to think about with a watch: materials and movements. Do you like stainless steel or do you prefer a more light-weight option such as titanium, or heavier options like gold and even platinum? Do you want a high-tech case material like carbon fiber or engineered ceramic? Some materials are more scratch resistant and corrosion resistant than others.
What's inside the watch matters, too. You may prefer a watch with a quartz movement that runs on batteries and doesn't have to be wound, or you might love the idea of a mechanical watch. If the concept of hundreds of tiny pieces working together in harmony is a must for you, then you need to consider if you want a self-winding or manual wind watch. Essentially, one will be selfpowered by the movement of the wrist while the other will need to be wound by hand.
---
Have Fun
A watch purchase shouldn't be daunting. It should be enjoyable. Don't worry about how many watches constitutes a collection. Don't worry about what others think you "should" buy. Try the watches on, indulge a little and have fun. Beware, though. Once you really start getting into watches, you may very well get hooked.