How IWC Masters The Pilot's Watch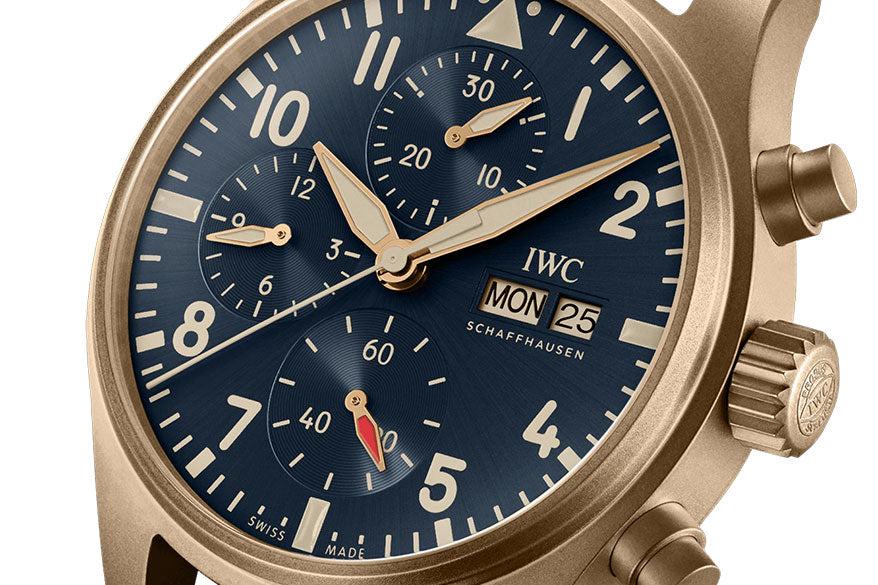 Swiss watch brand IWC Schaffhausen has a long and storied past when it comes to pilot's watches. This brand was the first, in the early 1930's, to make its aviation watches impervious to magnetic fields that pilots would encounter when flying. They did this by adding a soft iron inner case around the movement so that the magnetism couldn't affect the caliber inside. It also helped guard against temperature fluctuations. The ingenious concept garnered the brand international acclaim and made it one of the best-known names for pilot's watches.
Of course, since the first IWC Pilot's watch made its debut in 1936 in response to a request from the British government, the brand has come a long way. It always remained true to important military specifications over the years. In fact, in 1940, IWC unveiled the Big Pilot's watch (which measured 55mm in diameter and was the biggest wristwatch the brand had made) in a limited edition for the German Air Force. In 1948, it created the now-legendary Mark 11 pilot's watch with a NATO strap for the British Royal Air Force. Those early watches boasted shatterproof crystals, rotating bezels, oversized crowns and more.
IWC's roots were inexplicably intwined with aviation and the brand has regularly evolved its pilot's watches and now has a collection with a host of subdivisions that include the IWC Spitfire, Big Pilot, Mark lines, Antoine de Saint Exupery (author of The Little Prince), and the beloved Top Gun series that it began in 2007. In fact, the brand had struck a relationship with the elite United States Navy Fighter Weapons School, also referred to as Top Gun, and the first collection that carried the Top Gun name was the Pilot's Watch Double-Chronograph Edition Top Gun. Today there are even several series within the overall Top Gun collection, as well.
Not only is it important to IWC to create high-precision, high-functioning pilot's watches for aviators, but also it wants aviation enthusiasts as well as current-day watch lovers to be able to wear its watches. As such, the brand regularly turns to high-tech materials that are rugged, lightweight and durable. This includes high-tech ceramic, which it recently unveiled in Woodland green and Lake Tahoe white in addition to black ceramic versions. Developing colored ceramic is no easy feat, and it takes months to research and create a new color of the ultra-hard material. IWC also has its own proprietary ceramic alloy material it calls Ceratanium and offers the IWC Pilot's Watch Double Chronograph Top Gun watch, and several others, made in this material.
Located in the German-speaking region of Switzerland, IWC also constantly continues evolving its designs and the movements inside to ensure they can go the distance. Recent standout watches in the IWC Pilot's line up include the new Pilot's Watch Chronograph 41mm with a bronze case and offers several different pilot's watches in bronze. IWC uses a bronze that is 50 percent harder than standard bronze thanks to a perfect mix of aluminium, copper and iron. This watch is particularly popular because watch lovers are intrigued by the fact that, over time, the bronze will develop its own unique patina.
Because Pilot's watches are highly functional, IWC offers everything from a clean and simple three-hands pilot's watch to versions that incorporate navigational tools and other helpful functions, including chronographs, perpetual calendars, world timers and more.
Today, the brand continues to be affiliated with Top Gun, as well as with some other prestigious organizations that keep it in the forefront of aviation. Among those: the Antoine de Saint-Exupery Foundation, The Spitfire Academy, Airspeeder (electric flying racing cars), and others.
One little known fact about IWC that most don't know (unless you're a true watch lover): this brand was founded by an American, Florentine Ariosto Jones, who left Boston for Switzerland to find a way to commercialize production. The brand name: International Watch Company.