Are Mikimoto Pearls a Good Investment?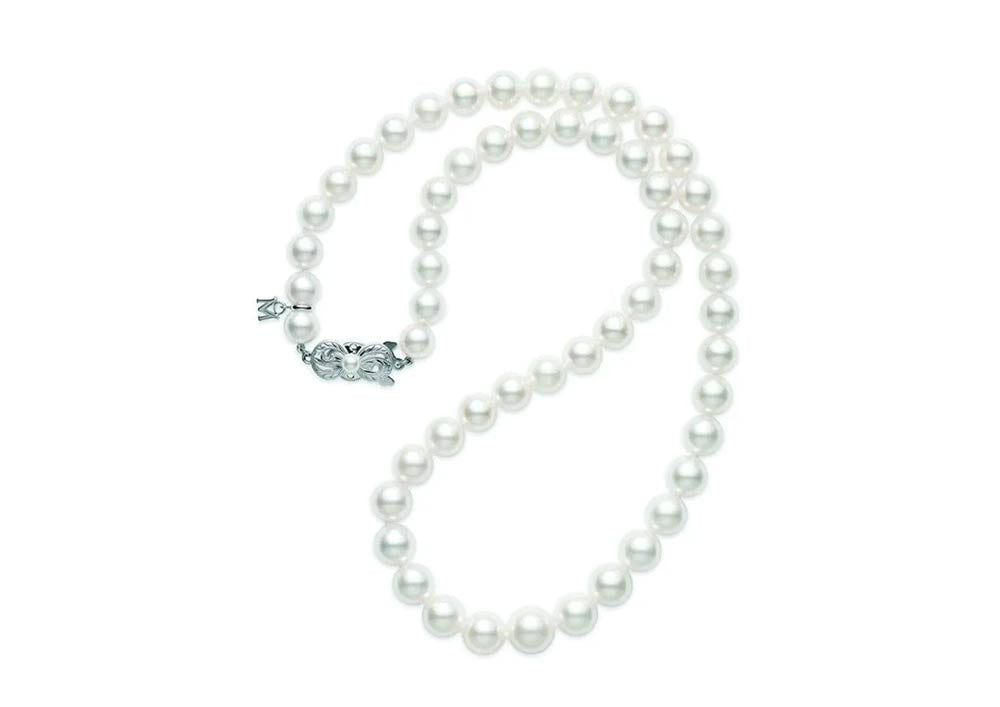 Mikimoto pearls, especially the vintage ones, can be a good investment provided they have their original clasp, the original box, and proper paperwork establishing their provenance. The top-grade (AAA) Mikimoto pearls have the best chance to appraise in value and, thus, are best for investment. 
Genuine Mikimoto pearls are highly sought after and continue to fetch top dollar on resale. However, if you are considering investing in some Mikimoto pearls, you must keep a few things in mind to avoid mistakes. 
Let's dig deep and see why Mikimoto pearls can be a great investment if you play your cards right!
How Valuable are Mikimoto Pearls? 
According to a recent study, the global pearl jewelry market is set to reach $25 billion by 2025 with a compound annual growth rate (CAGR) of 13%. Mikimoto pearls, one of the most valued cultured pearls on the planet, are in the perfect position to capture a fair chunk of this projected growth. 
Mikimoto Akoya pearls can range from $300 for a pair of 7 mm studs to over $500,000, depending on the collection and grade of pearls. A lower quality (A+) grade pearl necklace can set you back between $3,000 to $7,000, with flawless AAA grade pearls costing several thousand dollars.  
One of the biggest reasons for the high price of Mikimoto's pearls is their stringent grading system. The pearls come in four grades- A, A+, AA, and AAA. While the A-grade pearls are the lowest quality, the AAA pearls are the best. 
Another reason for the high value of these pearls is the craftsmanship that goes into making the jewelry. Whether a simple ear stud or an elaborate piece of jewelry, the craftsmanship is world-class, making Mikimoto's one of the most valuable brands in the industry. 
The value of the pearls also depends on their lineage. If the pearls are exotic and have some history associated with them that can be proven; their cost can skyrocket in auctions.
So Mikimoto pearls are some of the most valued cultured pearls in the world and are sourced from the top 5% of the yearly harvest. They have some of the most luxurious pearl collections in the world. 
The brand offers exquisite designs in almost every pearl type, including:
Cultured Akoya

Tahitians (From French Polynesia) 

South Sea Pearls

Exotic natural pearls (Conch and Melo-Melo)
However, Mikimoto is best known for its cultured Japanese Akoya pearls. 
Do Mikimoto Pearls Hold Their Value?
Mikimoto pearls hold their value provided they retain their high quality and have the original clasp, box, and the proper paperwork. It's normal for pearls to wear over time, especially if not properly cared for during storage. Take good care of your pearls; they will hold their value longer. 
It is important to take good care of your Mikimoto pearls if you want them to hold their value. As pearls are organic gemstones, they are susceptible to chemicals like acids and alkalis. Excessive humidity can also damage your pearls. 
How to Take Care of Your Mikimoto Pearls, so They Hold Their Value?
Unlike other gemstones such as diamonds, pearls are much more fragile and need your love and care to retain their pristine appearance. Here are a few tips to take care of your pearls:
Avoid direct contact of your pearls with cosmetic products, hairsprays, and perfumes.

Always wear your pearl jewelry as a "final touch" after you finish your hair and make-up.

Your sweat can also cause damage to the luster of your Miki's. So, before returning them to the box, wipe them off gently with a soft cloth to remove the sweat.  

Always store your pearls in the original box to avoid scuffing and scratching. 

Mikimoto pearl necklaces are strung with the finest silk, but the string can lose its strength over time. Get your pearls restrung at least once a year to avoid the catastrophe of a broken necklace. 

Never clean your Miki's yourself. If you notice the luster is fading away and your pearls need cleaning, take them to a specialist. The pearl specialists use an ultrasonic cleaner to clean the pearls gently without scratching or damaging them.  
Properly cared Mikimoto pearls have been passed on as heirlooms in many families. So, take good care of your pearls, and they will retain their value for years to come. 
Do Mikimoto Pearls Increase in Value Over Time?
Pearls have become a bit of a fashion statement in recent years. The demand for pearls has been on the rise with a resurgence in pop culture across the globe. Pearls are also becoming popular among young men in their 20's and 30's. 
Depending on their condition and pedigree, Mikimoto pearls can increase in value over time. Larger, AAA-grade pearls with good provenance have continued to fetch millions in auctions. There is no reason this trend won't continue in the future.   
Mikimoto pearls are cultured and not mined like other precious gemstones, including diamonds, which are much more ecologically friendly. As more people become environmentally aware, the demand and, hence, the value of these pearls is sure to go up. 
Besides, if you have Mikimoto pearls that have well-documented provenance, they are sure to increase in value over time. 
The company's newest Passionoir Collection features black South Sea pearls in rhodium-plated silver. The collection is one of the company's first gender-neutral collections. Although not much can be said about the appreciation of these pearls, if trends are to be believed, they are set to explode in popularity in the coming years. 
As Mikimoto enjoys a surge in brand recognition, the pearls are projected to increase in value. However, it would help if you remembered that these are trends and speculations. Only time will tell if the predictions hold true in the coming years and decades. 
Stay Away from Sea Magic and Blue Lagoon Collections
If you want to invest in Mikimoto pearls, you should avoid the Sea Magic and Blue Lagoon pearl lines. Both of these collections feature lower-quality Akoya pearls that might not appreciate over the years. 
Although the collections can be a great option for your first Mikimoto pearl set, you should avoid them if your motive is purely an investment. 
Don't get me wrong, the Sea Magic and Blue Lagoon are great pearls in their own right, but they can't compete with the high-end AAA-grade Mikimoto pearls. 
If you plan to purchase Mikimoto pearls, make sure to buy the collection sold under their brand name - Mikimoto. The signature collection features the finest pearls the company can provide and has the best possible chance to appreciate over the years. 
Remember, the value of the pearls will depend on whether you have all the original components, including the box and the paperwork. So, keep your documents in order if you buy the pearls as an investment. 
Are Mikimoto Pearls the Best? 
Without mincing words, Mikimoto pearls are the best-cultured pearls money can buy, period. However, brands like Tiffany's offer similar quality products and the legacy of Mikimoto is what puts them right on the top. 
If you are looking to buy pearls that have a chance to appreciate over time, Mikimoto is the way to go. 
The Takeaway
Mikimoto pearls can be a good investment provided you invest wisely and in the right collection. You must remember that, unlike diamonds, pearls will degrade over time, and you must take good care of these precious gemstones to hold their value.  
Here at C.D. Peacock, we offer some of the best Mikimoto pearl collections in the country. We have hundreds of options, from ear studs and rings to classic necklaces and brooches. 
Visit us online or at one of our three showrooms in Chicago to experience the irresistible lure of the Mikimoto pearls!