Swarovski Lab Created Diamonds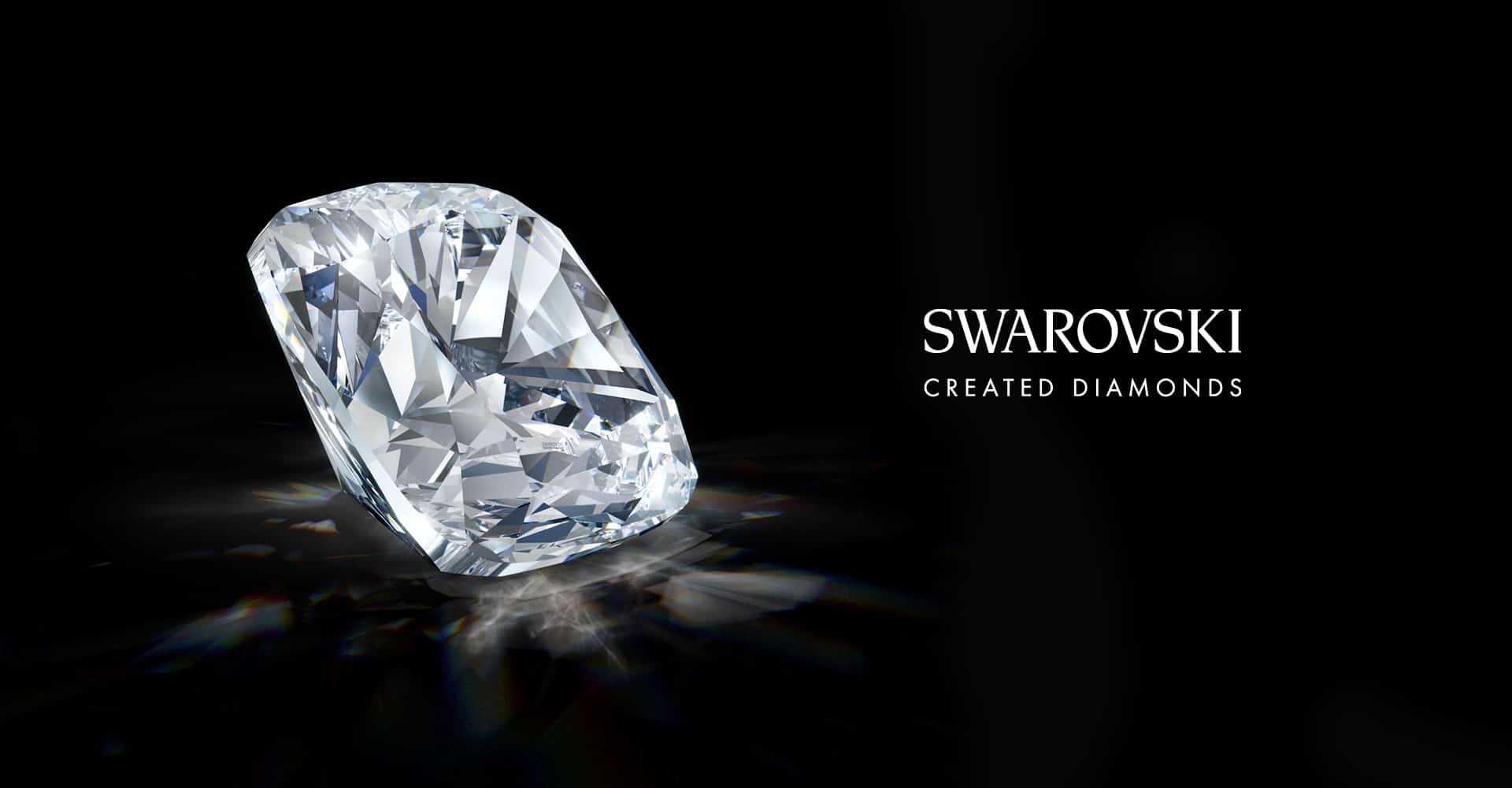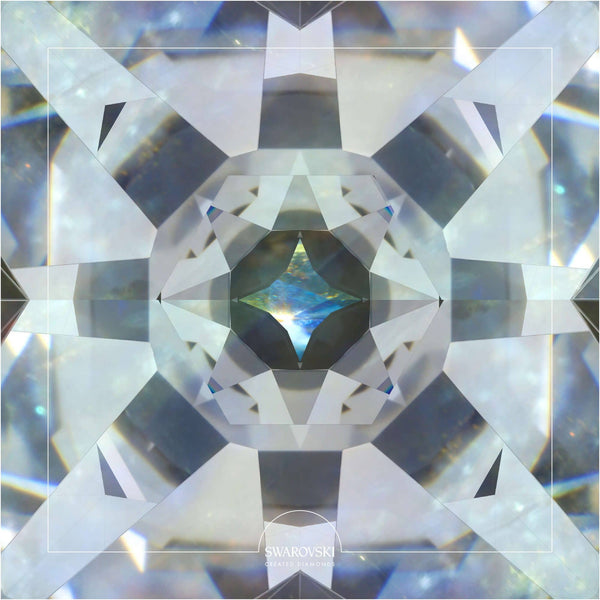 DIAMOND OF THE FUTURE
Through the magic of innovation, and 125-years of creative brilliance,
Swarovski transforms carbon into lab-grown diamonds, the unique
Swarovski Created Diamonds, indistinguishable from their natural form.
Produced at high-level environmental safety standards, our lab-grown
diamonds embody luxury with a conscience, for next-generation style.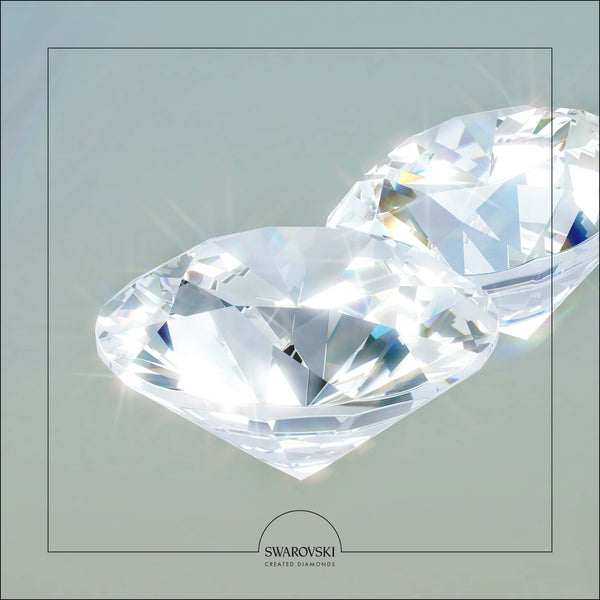 100 PERCENT DIAMONDS
Swarovski Created Diamonds are quite simply magic. Creating laboratory
grown, 100 Percent diamonds, indistinguishable from mined diamonds in
every attribute may appear to be the work of pure sorcery. However,
behind the scenes it requires a vast array of specialists – from
diamond-growing technicians, master diamond cutters, and certified
gemologists. Each of these experts nurture, shape, and grade every
lab-grown diamond until it is ready to be worn in the world.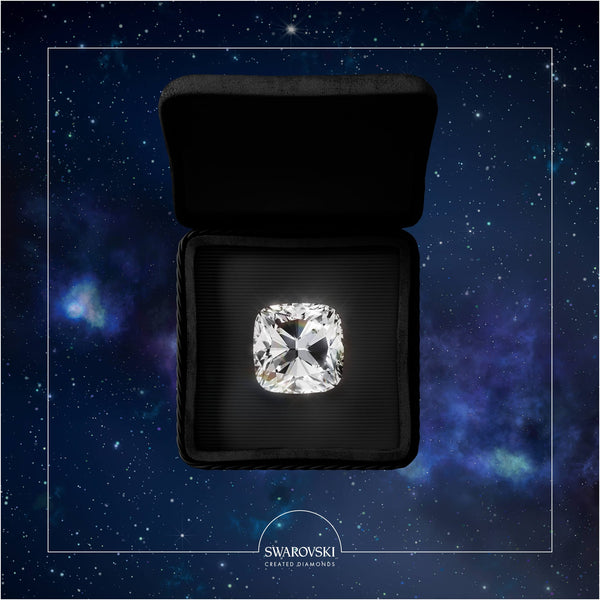 BREATHTAKING BRILLIANCE
Swarovski Created Diamonds combine timeless craftsmanship and 21st
century values married with epic creativity. Just as no two mined
diamonds are exactly alike, each of our environmentally conscious, lab
nurtured diamonds is a complete original, utterly unique and thoroughly
enchanting.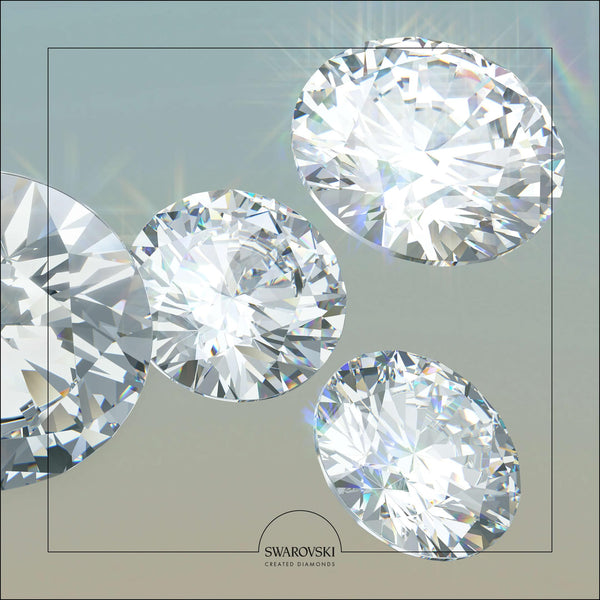 ONLY THE EXCEPTIONAL
All Swarovski Created Diamonds are hand-selected and graded in the exact
same manner as mined diamonds. Gemologists grade our lab-grown diamonds
according to the industry's standard 4Cs, which relate to cut, color,
clarity, and carat weight, for when you really need to shine.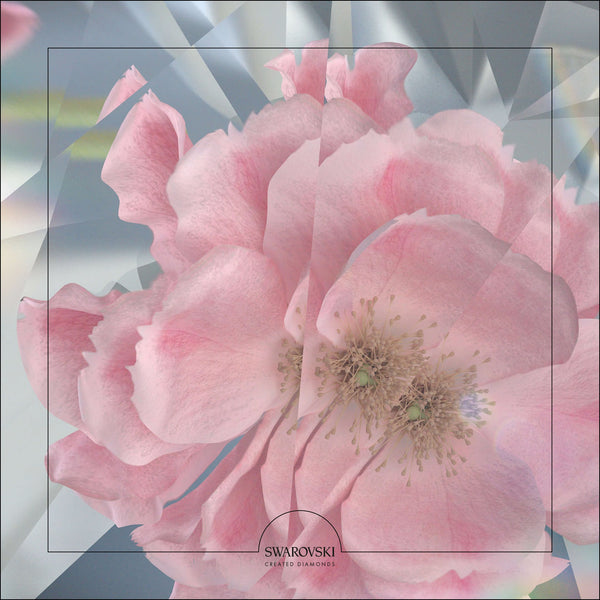 CONSCIOUS LUXURY
Celebrate your engagement with a beautifully responsible choice. By
offsetting the energy used to produce Swarovski Created Diamonds, we
make the process of creating our lab-grown diamonds completely carbon
neutral. And we are thrilled that all of our stones are created in
adherence with high-level environmental, safety, and labor standards.
With this magic your lover will certainly say, "Yes!"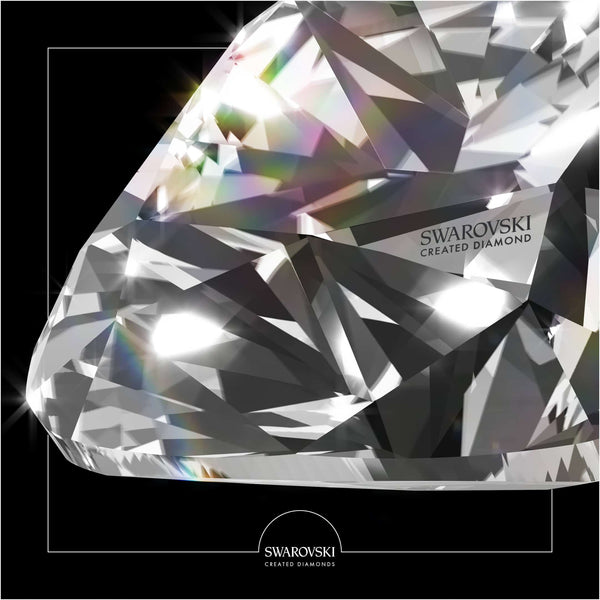 CERTIFIED EXCELLENCE
If a Swarovski Created Diamond is indistinguishable from a mined
diamond of equal quality, how can you tell if the diamond is made by
Swarovski? All Swarovski Created Diamonds larger than 0.10 ct. are
marked by a laser engraving. This mark is visible only under strong
magnification and identifies our diamonds as authentic Swarovski Created Diamonds of extraordinary beauty.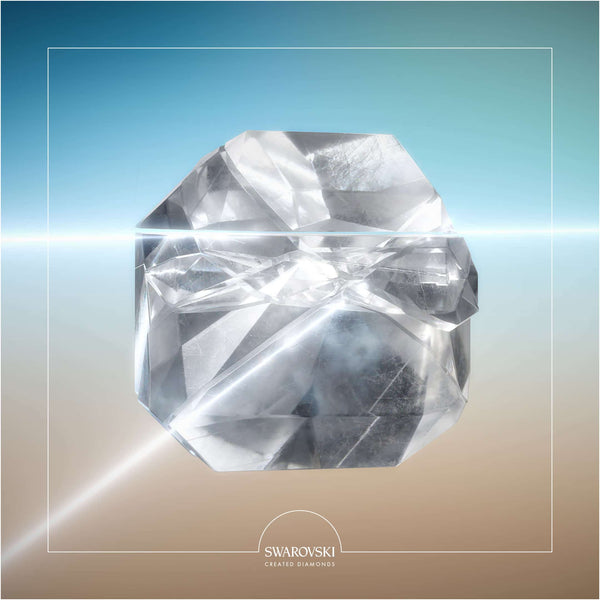 ARTISTS AND MAGICIANS
Each Swarovski Created Diamonds is subject to strict quality controls,
precision-cut by master cutters to enhance its unique brilliance and
sparkle, before being judged and graded by gemologists via the
industry's standard 4Cs.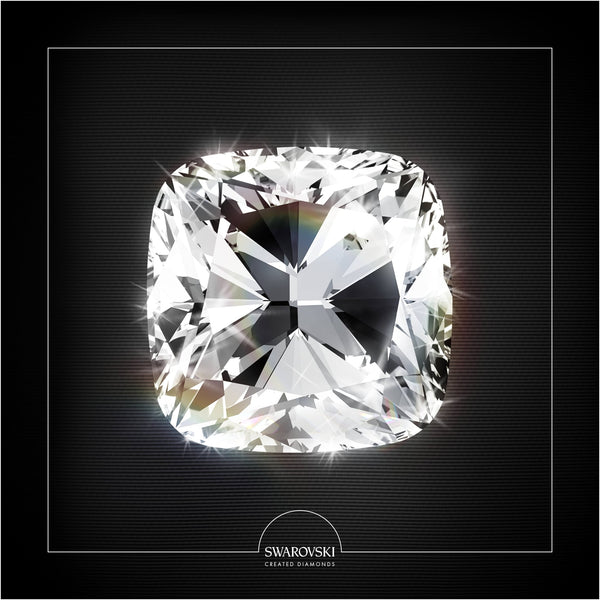 MERGING SCIENCE AND MAGIC
Welcome a new era of sparkling innovations with Swarovski Created
Diamonds that are indistinguishable from mined diamonds. Engineered
precision, attention to the tiniest detail and highest quality in every
lab-grown diamond, with design and experience, built on 125 years of
craftsmanship in mastery of light.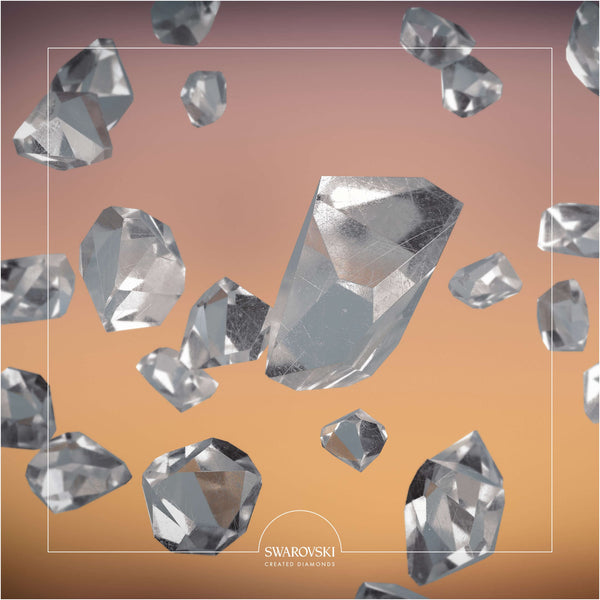 CUTTING EDGE CREATION
Swarovski Created Diamonds are made to ignite your dreams. Each
diamond is grown from a tiny diamond seed, which is placed in special
laboratory conditions emulating the same heat and pressure necessary to
form mined diamonds.
Once this tiny seed has been nurtured into a raw diamond, experienced
master cutters transform it into an object of exquisite beauty-a 100%
real diamond.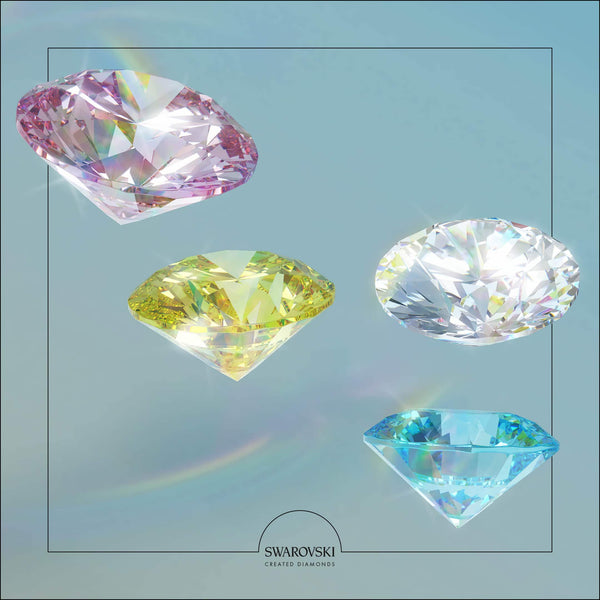 TRUE COLORS
Swarovski Created Diamonds are perfectly made to express your
individual style. Grown in 20 enchanting colors-the most comprehensive
array in the market-our diamonds are crafted in smoldering, sparkling,
eye‐catching hues that range from ethereal blush and soft champagne to
deep cherry and charismatic blue.
With judging criteria-hue, saturation, and tone-identical for mined
and lab‐grown diamonds alike, you are assured of brilliant creativity
and optimum color radiance.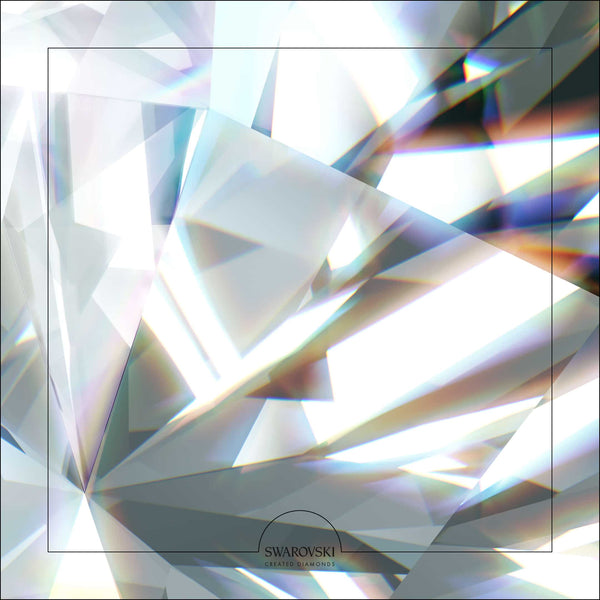 GO BIGGER AND BRIGHTER
Let the diamond you bring to your beloved be no less than perfect.
Let it be magic. Your love truly knows no bounds, and naturally you want to shout that out to the world with a bigger, bolder stone with more brilliance.
Swarovski Created Diamonds mean you can shine bright. With the exact same characteristics as a mined diamond, our lab-grown diamonds allow you to give your loved one a diamond of indistinguishable and impressive
quality while being even more affordable. Let us help ignite your
dreams.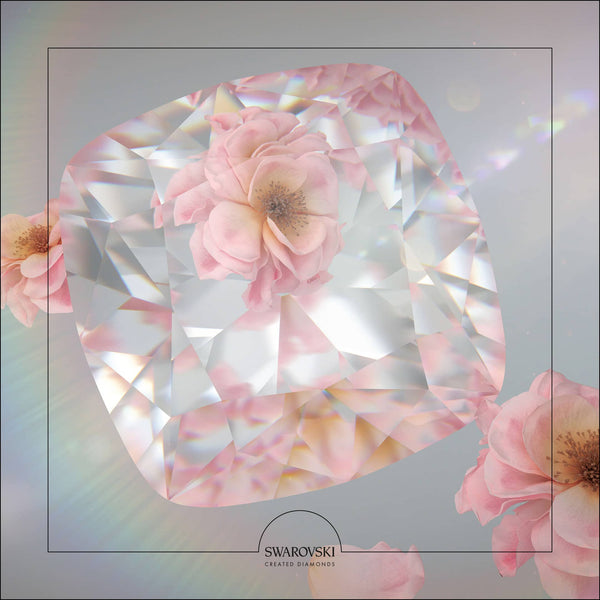 ETERNAL VALUES
How will you choose to symbolize forever? As the world evolves toward more ethical and sustainable models of production, more and more couples are beginning their journey of eternal love with a shared vision of a better, cleaner, and greener planet.
Swarovski Created Diamonds recognize the legacy of our company's founder, Daniel Swarovski. We honor his forward‐thinking vision of a responsible business, incorporating the wellbeing of our employees, and
care for the environment and society at large.
Inclusivity, sustainability and respect lie at the heart of everything we do – so from our heart to yours, we welcome you in.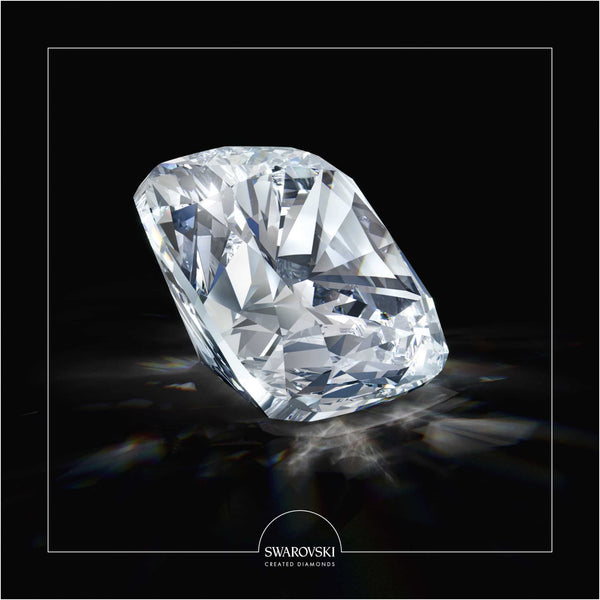 THE SWAROVSKI PROMISE
Swarovski is a promise, ensuring heritage, style, innovation and
perfection in everything we create. Swarovski Created Diamonds are
engineered with precision, attention to the tiniest detail and quality in every product, design and experience.
Built on 125 years of craftsmanship in the mastery of light, Swarovski Created Diamonds are our promise of a perfect choice.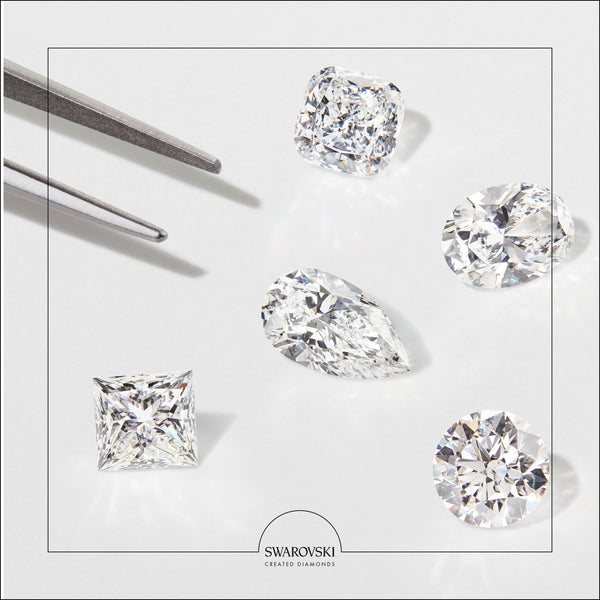 THE PERFECT CUT
Looking for a diamond that expresses your unique personality?
Swarovski Created Diamonds are crafted in six classically beautiful
cuts: Round Brilliant, Square Princess, Cushion, Pear, Oval and Radiant.
Each is a masterpiece of cutting technology with its own personality, charm, and story, able to bring your imagination to life.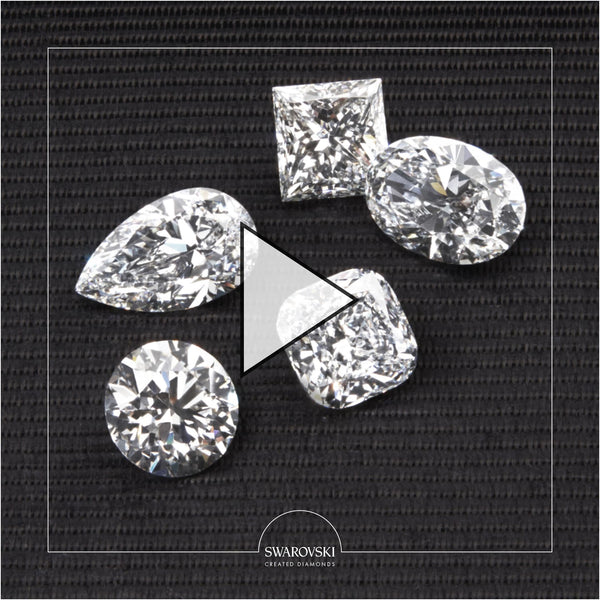 A DIAMOND YOU CAN TRUST
While all Swarovski Created Diamonds meet our exacting standards of quality and sustainability, each diamond is unique,just as no two mined
diamonds are alike.
Because each of our lab-grown diamonds is an absolute original, every diamond nurtured in our labs is evaluated by the industry standard of the 4Cs: clarity, color, cut, and carat weight. Which makes a Swarovski Created Diamond a diamond you can eternally trust.